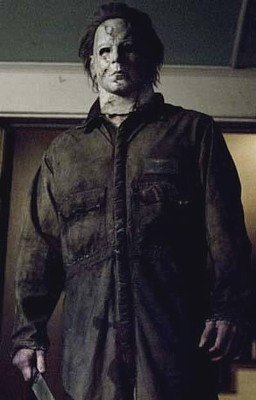 Michael Myers is from Halloween, a slasher horror film made by John Carpenter.
Halloween Movie
Edit
In the movie, Michael Myers is only a 6-year-old boy when he does some damage.  The Halloween film is taglined The Night He Came Home! I don't know what it means, but maybe it means Michael came home to the Myers family.   
Weird But True: Facts About Michael Myers:
Edit
---
Tyler Mane, Daeg Faerch, George P. Wilbur, Dick Warlock, Don Shanks, Brad Loree, Chase Wright Vanek, and Adam Gunn played Michael in the movie.  
---
Michael Myer is smetimes in some versus moviesa.
---
Michael Myers has a pale white face, blank sockets, and a big darkesh jacket.
He is seriously scary!