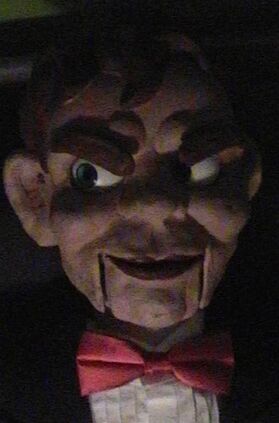 Slappy is a dummy from author R. L. Stine's Goosebumps: Night of the Living Dummy.
Who is The Most Popular Goosebumps Charater?
Edit
Right, you guessed it-Slappy the Dummy.  The story "Revenge of the Living Dummy" shows Slappy in it.  Ethan, in the book, calls Slappy Mr. Bad Boy.   In another version, Slappy brought dummies to life and slaps people.
Goosebumps Books:
Edit
Stay out of The Basement
Welcome to Dead House
Monster Blood 3
Say Cheese and Die!
The Curse of the Mummy's Tomb 
Let's Get Invisible!
The Girl Who Cried Monster
Night of the Living Dummy
Welcome To Camp Nightmare
The Ghost Next Door
The Haunted Mask
Be Careful What You Wish For.....
Piano Lessons Can Be Murder
The Werewolf   Of Fever Swamp
You Can't Scare Me!
One Day at Horrorland
Why I'm Afraid of Bees
Monster Blood 2
Deep Trouble
The Scarecrow Walks at Midnight
Go Eat Worms!
Ghost Beach
Return of the Mummy
Phantom of the Autitoriem
Attack of the Mutant
My Hairist Adventure
A Night in Terror Tower
The Cucko Clock of Doom
It Came From Beneath the Sink!
Night of the Living Dummy 2
The Barking Ghost
The Horror at Camp Jellyjam
Revenge of the Lawn Gnomes
A Shocker on Shock Street
The Haunted Mask 2
The Headless Ghost
The Abominable Snowman of Pasadena
How I Got My Shrunken Head
Night of the Living Dummy 3
Bad Hare Day
Egg Monsters From Mars
The Beast From the East
Say Cheese and Die-Again!
Ghost Camp
How To Kill A Monster
Legend of a Lost Legend
Attack of the Jack-o-lanterns
Vampire Breath
Calling All Creeps!
Beware, The Snowman
The blob that ate everyone