The Toilet Ghoul appears in Ghoulies.  Actually, he's kind of gross more than creepy or spooky.....
Scariest Moment:
Edit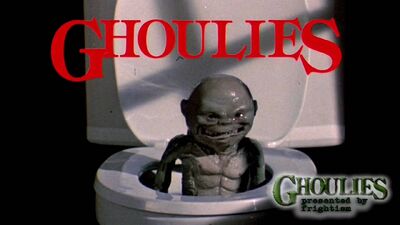 A character in Ghoulies sits down to use the bathroom (giggle).  We don't see what's happening beneath his waist, dude's screams and sounds of little teeth munching.
John Carl Buechler, Jim Wynorski, Albert Band, and Luca Bercovici all dericted Ghoulies.
Ghoulies was released around the 1980s, and 1990s.
Ghoulies was a little more of a darkened ripoff of Gremlins.